Hot
New
-34%
Free shipping over $49 USD
Out Stock
New Neck Massager Ergonomic Handle Design
PRODUCT INFORMATION
Shopping Info
CUSTOMER REVIEWS
PRODUCT INFORMATION
Struggling with neck pain. TMJ and tension headaches?
Massager pressure will naturally eliminate your neck pain in just 10 minutes a day

Naturally Eliminate Neck Pain (no harsh painkillers)

Your own in-home Chiropractor (money back in your pocket)

Reduces the frequency of headaches and migraines

Stress Relieving (sleep. feel and better)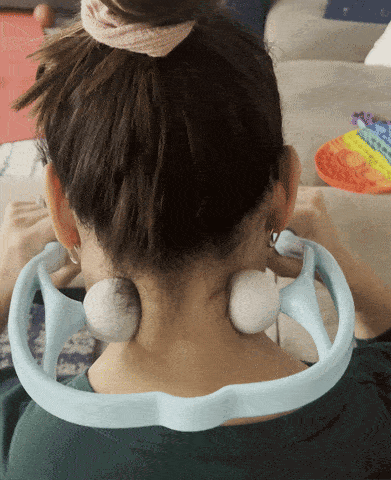 Say Goodbye To Neck Pain. Headaches. Stiffness. Knots & Much More!
This dual pressure point neck massager is a unique hand-held manual massager that allows you to access pressure points to target specific pain areas in the body. Pressing on these pressure points can help eliminate neck pain, tension, stiffness, knots, and muscle soreness.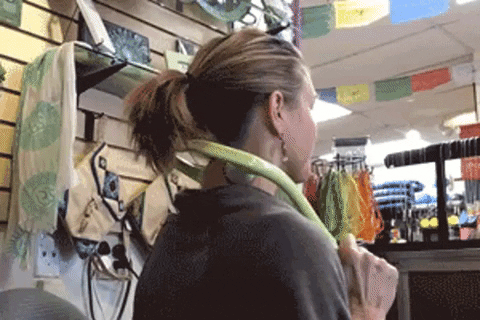 It features two soft yet firm silicone balls that can help loosen up the tense muscle and knots by focusing on the main pressure trigger points.
Relieve Neck, Back, & Shoulder Pain
The dual pressure point massager relieves pain by applying direct pressure and massaging the trigger points at your neck. back and shoulders. It massages. squeezes, and kneads away all tension and pain.
Improve quality of sleep
Massage therapy can reduce fatigue and improve sleep. You can press, squeeze, and knead to release tight, stiff, and aching muscles.
Massage away headaches and migraines

The Dual Pressure Point Massager by effectively helps reduce pain from headaches and migraines by softly massaging the pressure points at your desired pace which causes the knots to be released and helps promote new blood flow.
Increase blood flow circulation to brain and body
Massaging the neck can help alleviate headaches by releasing tension and helping blood flow through congested areas. The release of this same pressure causes new blood to flow in. When done to the body this helps alleviate sore muscles, relieves tension and fatigue.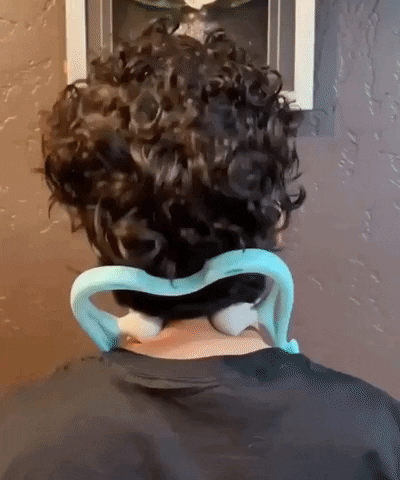 Customize Massage Intensity

By utilizing the convenient and ergonomic handles, you can fully control every aspect of your massage treatment, thus achieving unparalleled results. Control the pace, direction, and intensity. Feel refreshed and relaxed after just five minutes of treatment.
Give your legs and feet the massage they deserve
Foot pain after a long day of walking can be unbearable. Most massagers on the market just don't apply the right amount of pressure to provide relief. You no longer need to tease your feet and can apply as much pressure as they need to get the kind of relief you are looking for.
Convenient and portable
With this massager. you can give yourself a vigorous and deep massage at home, in your office or school, or while being on the road. Slender and lightweight. you can easily stow it away in your bag, suitcase, knapsack, glove box, drawers, etc. for easy storage.
For everyone and anyone
A quick 5-minutes of daily usage has shown improvement in releasing your fatigue, feeling refreshed and feeling relaxed after just five minutes of treatment.
Requently asked questions:
How do I use my massager?
Put your hands on both handles, and open the device slightly.
Place the balls on the desired spot in the neck, we recommend beginning with the tightest spots.
Massage by slowly rotating the handles in very small circles, you can adjust the intensity as needed.
Use for between 2-5 minutes
Feel the tension and knots release and relax
Will this treat my specific issue?
This device is perfect for treating: chronic neck pain, tension headaches, tight & sore neck muscles, desk posture as well as upper back & shoulder pain. It's also great for treating specific conditions like cervical spondylosis, disc degeneration. pinched nerve & herniated disc.
ONLY 15 LEFT IN STOCK - GET YOURS NOW
Shopping Info
Country/Region
Shipping Method
Costs
Shipping time
United States
STANDARD
Orders: $0 - $49

3.98USD

7 - 12

Business Days

United States

FREE STANDARD
Orders: OVER $49
FREE

7 - 12

Business Days

Others

STANDARD




Orders: $0 - $49

10 - 18 

Business Days

Others

FREE STANDARD
Orders: OVER $49

FREE

10 - 18 

Business Days
Notes:
1) Shipping Time does not include a 1-3 day processing period required to process your order from the date your order is placed.
2) We will make every effort to deliver your package ASAP. However, additional time may be required due to invalid addresses and custom clearance issues.
3) Should your package not arrive within 25 days after you have placed your order, you must contact Customer Support within 30 days after your order was placed.